Textile embroidery - The longest lasting form of your logo on textiles
Textile embroidery is certainly the most sophisticated form of textile finishing. With our 4 embroidery machines we provide a high quality advertising application on e.g. T-shirts, polos, sweaters, shirts, jackets, caps but also on fabric bags and bath towels. Your desired motif, professionally embroidered on high-quality textiles ensures excellent appearance and long-term advertising effect. In our promotional products – online store you will find a wide range of textiles.
We will be happy to advise you on the right textile – honestly.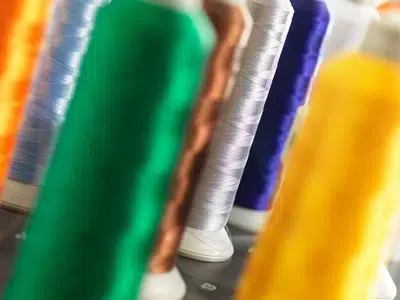 Three "captivating" advantages of direct embroidery
1. high quality & durable
Logos and lettering embroidered directly into the promotional textile are the highest quality way to finish textiles and are particularly characterized by their durability.
2. versatile
From apparel to home textiles to fabric bags, textile embroidery gives your promotional product a classy feel.
3. flexible
Since the embroidery program is created directly in-house, any changes in the logo can be adjusted immediately.
Embroidered from head to toe
You attach importance to the high-quality finishing of your promotional textiles, then you are absolutely right with your logo or lettering as embroidery. But not only clothing, such as T-shirts, shirts, jackets, sweaters, hoods, scarves and caps can be embroidered perfectly, but also any home textiles. Thus, terry goods, tea towels, aprons, table linen & potholders, but also blankets & pillowcases as textile promotional items with your logo as an embroidery offer.
And if you prefer the flexible choice of promotional textiles and always want to apply the same high quality embroidery logo yourself, we are also happy to make embroidered patches for your perfect promotional appearance.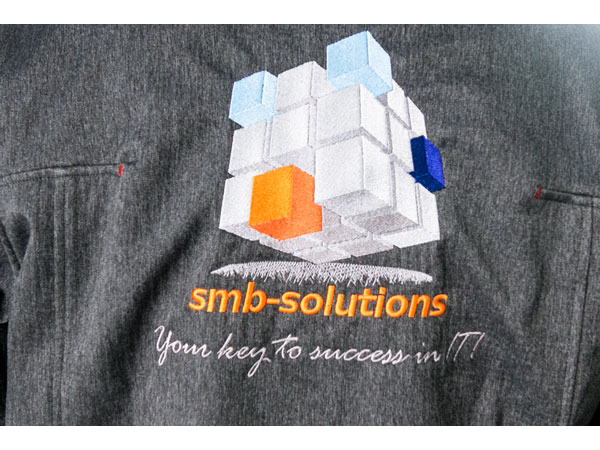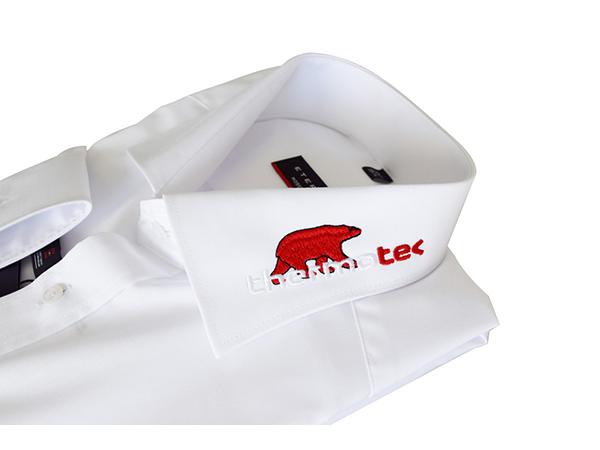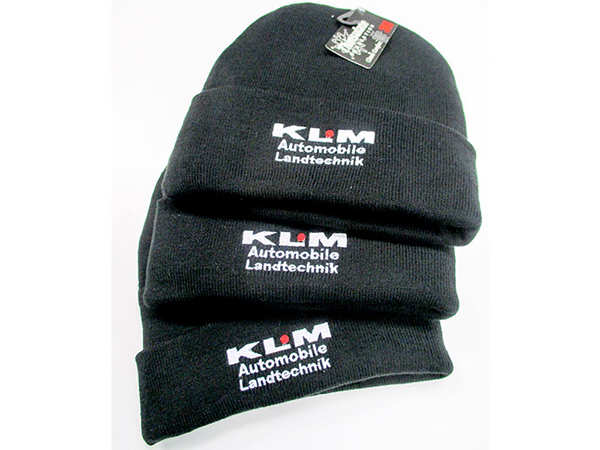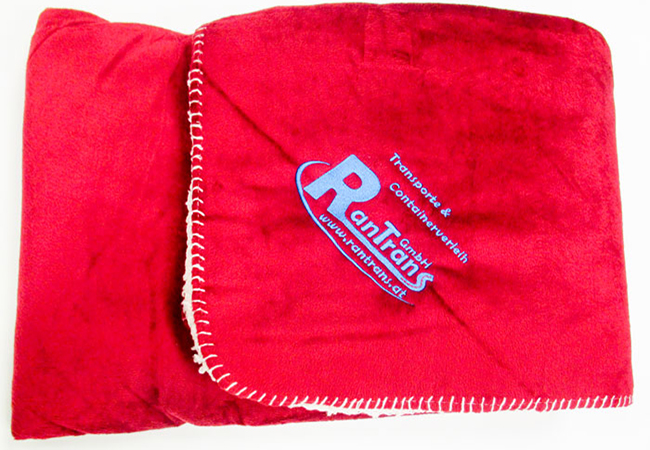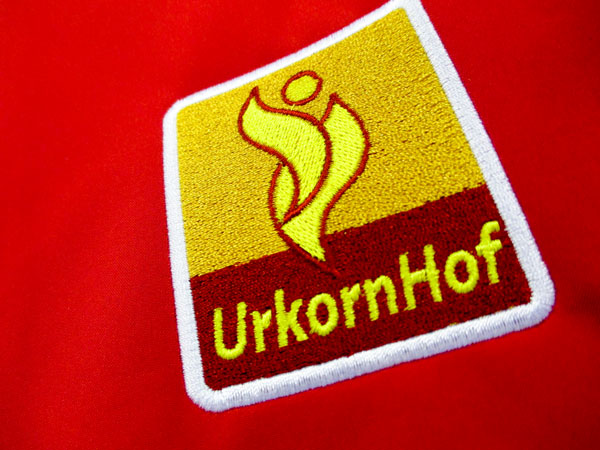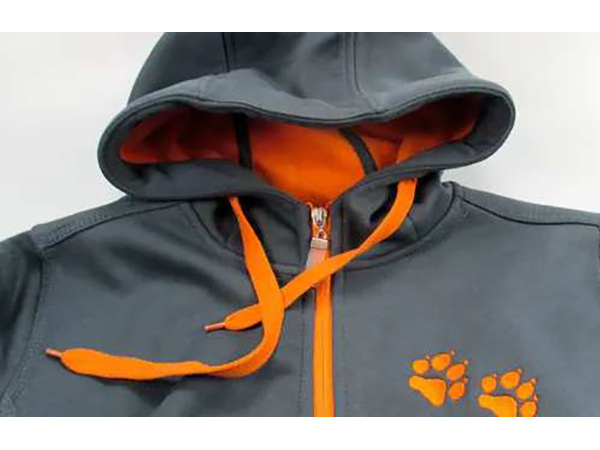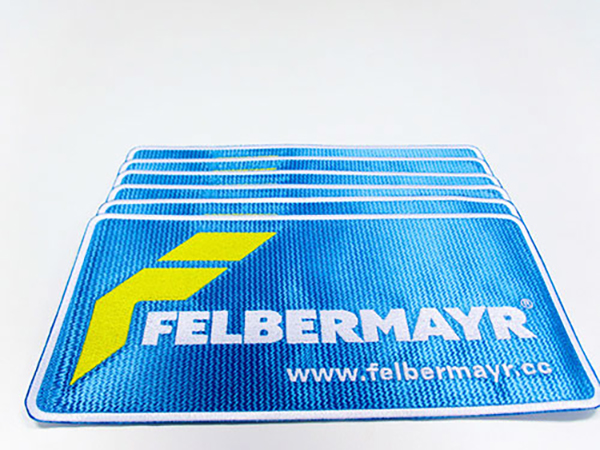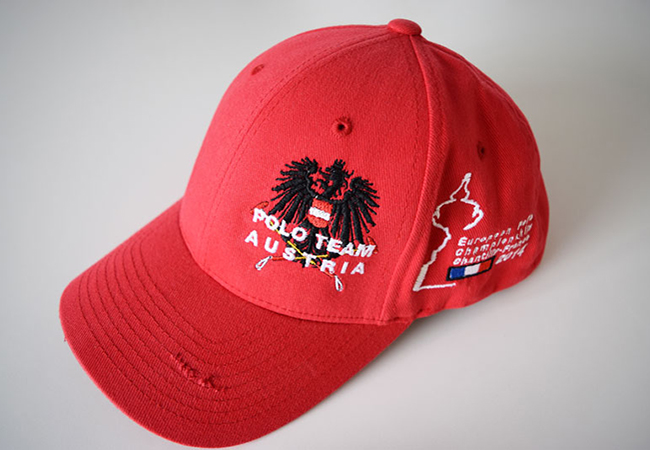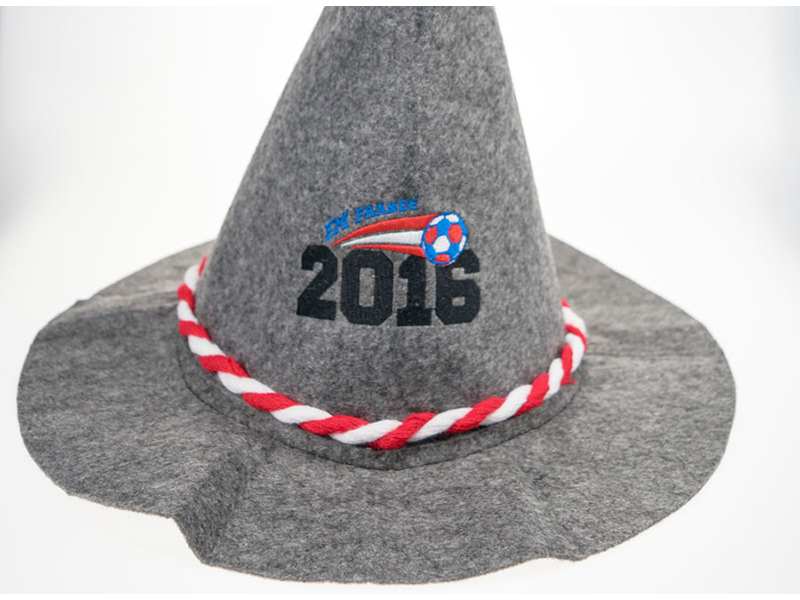 Technical information about textile embroidery
With our 4 embroidery machines we embroider a wide variety of fabrics and materials with your desired motif – even single names are possible.
Which textiles are suitable for embroidery?
The range of application of textile embroidery is almost unlimited.
T-shirts, Polos, Shirts & Blouses
Knitwear like caps, hats, scarves, sweaters, hats (depending on material)
Terry goods such as towels, bath towels, bathrobes, washcloths, bath mats
Cotton blankets, fleece blankets, pillowcases
Ties
Softshell jackets, fleece jackets
Jeans, pants, skirts
Fabric bags and much more.
The only exception is leather textiles – we cannot process these with our embroidery machines. All other textiles such as workwear, promotional textiles, etc. can be embroidered individually according to your wishes. If necessary, the textiles are strengthened with a fleece to form a reinforced support for the embroidery.
In our
online store
you will find a wide range of promotional textiles that you can have embroidered. We will be happy to advise you on the right textile for embroidery.
What data do we need for the creation of a textile embroidery?
Vectorized data saved as .pdf or .eps can be processed with our punch program for the stick. If you only have a JPG file available, we can prepare it for you. File processing is charged on a time basis.
Here is an example of a JPG file prepared for the embroidery program.
What dimensions of embroidery are possible?
The largest possible stick in our in-house production is: 30 cm x 25 cm.
For oversized embroidery we cooperate with partner companies.
For lettering, the minimum height should not be less than 5 to 10 mm, depending on the type of lettering and fabric, otherwise we can no longer guarantee the legibility of the embroidered lettering. Our staff will be happy to advise you on your specific embroidery request!
What are the yarn colors?
The selection of colors is very diverse, however, the yarn colors may possibly differ slightly from Pantone colors. Besides standard colors, we can also offer fluorescent yarns in neon colors, metallic and multicolored mottled yarns, as well as yarns in matte colors with frost effect.
Can color gradients be embroidered?
The representation of color gradients is only possible approximately, as you can see in the example of the embroidery patch for the company Fröling.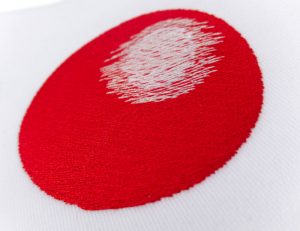 What embroidery positions are possible?
Possible or common embroidery positions on garments are: Back, chest, collar, cuffs, sleeves or trouser legs, but also hood cuffs or caps.
Depending on the textile, the embroidery can be applied to other positions upon request. Exceptions are textile embroideries on already sewn on breast pockets, for example. of shirts/blouses or pockets on jackets – here embroidery is no longer possible, otherwise the pocket would be embroidered together with the garment.
Before the start of production you will receive a print release with a sample sketch of your chosen advertising textile with the indication of the chosen embroidery position.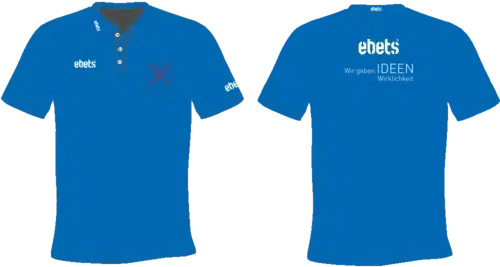 What is the alternative to direct embroidery?
Any form of corporate or club logos, crests or simple lettering can also be produced as embroidery patches. Once embroidered, this patch can be glued or sewn on any textile and later removed. Prices for embroidered patches depend on the desired quantity, size and other details. We are looking forward to your specific inquiry!
Insights into the production process
Measuring the embroidery position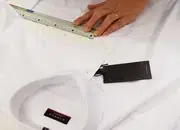 Clamp the textile into the tenter frame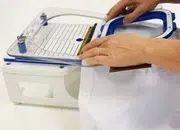 Anchor the hoop in the embroidery machine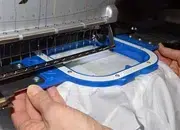 Set up embroidery position on the embroidery machine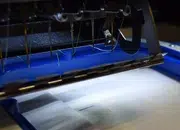 Fully automatic embroidery process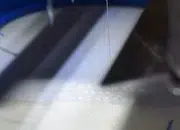 Removing the reinforcement fleece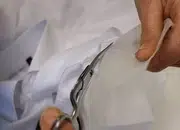 Quality control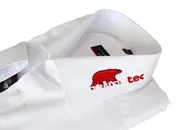 References of textile embroidery applications
The highest quality type of textile finishing is chosen by customers for a wide variety of clothing and home textiles.
Find out about other textile finishes now
Your contact persons
Use our contact form or send your request directly to the respective contact person. Or just give us a call.
We will be happy to advise you – honestly!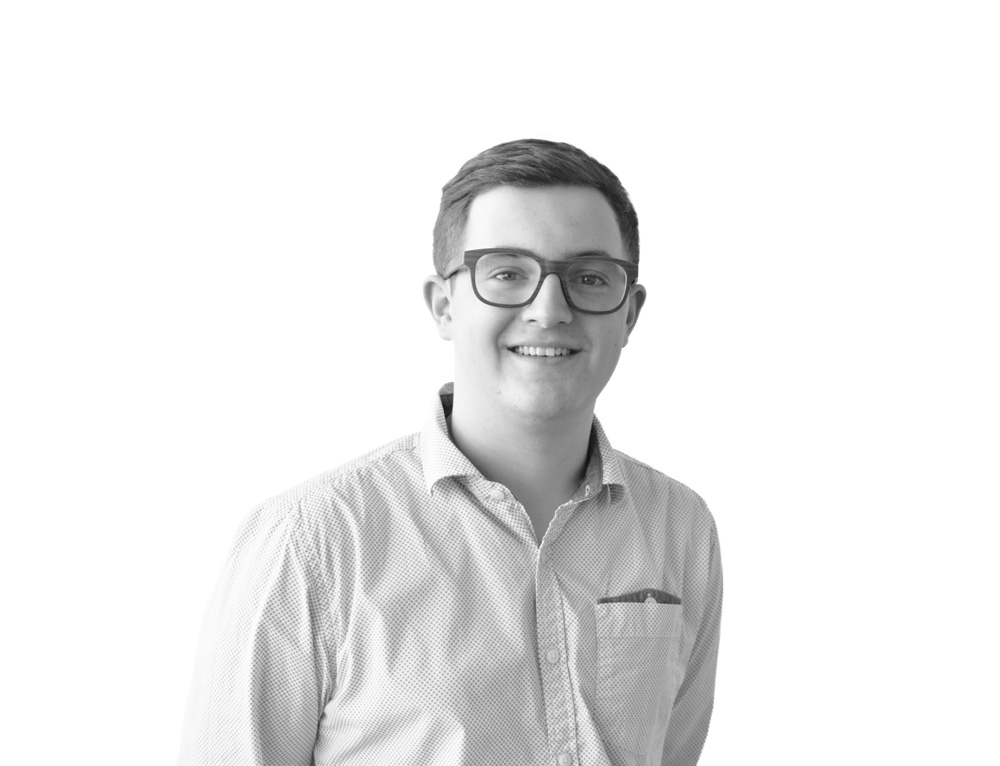 Florian Black
Customer service & work preparation