Flex print - elastic covering print on textiles
Flex printing is a high-quality foil printing process, which is particularly impressive due to its thin foil. With flex foil, logos, lettering and motifs can be printed in one color on textiles. Or the multicolored logo is digitally printed on white Digiflex film and then pressed on. But not only the right choice of textile finishing, but also the selection of the appropriate textile contributes to a successful advertising appearance.
Flex printing - advantages at a glance
Flex films are thin, elastic films for textile labeling. Due to its high stretchability, the material ideally adapts to the textile and achieves a high wearing comfort.
Opaque & color intensive
The flex print convinces with its high opacity and bright colors and still stands out only slightly from the textile fabric.
Durable textile printing
Due to its high stretchability and easy-care properties, this type of textile printing is particularly durable.
Flexible & elastic
Not only the flex film is particularly elastic, but also our in-house production – we produce flexibly according to your requirements – even at short notice.
Textile printing with flex film - applications
Do you love bright, vivid colors? Then opt for flex printing.
The color palette is larger than that of the flock films and the colors are more intense.
This type of textile printing can be used for lettering on all types of textiles and fabrics and is also available for polyester resublimating textiles. Due to the durability of this textile print, it can even be applied to workwear. For nylon fabrics as well as fabrics with a water-repellent impregnation, a special film is required.
The following textile material compositions are suitable for advertising application by flex:
Cotton
Cotton / Polyester blended fabric
Polyester / Acrylic blended fabric
Flex printing - motif size and care tips
For the processing of the print data we need a vectorized file saved as .pdf or .eps. If you only have a JPG file available, we can prepare it for you. File processing is charged on a time basis.


Due to the size of our heat press, we can produce flex prints up to a maximum size of 39 cm x 49 cm. For lettering, the minimum height should not be less than 10 mm in order to maintain legibility.


Flex film is washable up to 80 degrees, reflective flex film up to 60 degrees, film suitable for nylon up to 30 degrees. The printed textiles are not suitable for tumble drying. Caution is advised with large motifs – these can wrinkle at high spin speeds. In addition, be sure to follow the care instructions according to the textile label.


Due to the variety of colors, numerous effects can be achieved in flex printing. The flex imprint is smooth and slightly glossy – ideal for texts and motifs without color gradient. Two different flex foils can also be combined.


Effects by special flex films: reflective, noctilucent, glitter, holograph, metallic, … Please note that the original colors of the flex film can only be simulated in the image.
Flex print special form: Digiflex
With digital flex printing, even multicolored motifs can be applied to T-shirts cost-effectively in small quantities.
The high-quality white PU flex film is printed on the correct side with our solvent printer and dried. With our cutting plotters, the motif is cut to size, manually weeded and removed from the carrier foil using heat-resistant transfer foil. Now the printed pattern is positioned on the textile and finally joined to the fabric with the transfer press.
The textile with Digiflex is washable up to a maximum of 80 degrees.
Insights into textile printing production
Data preparation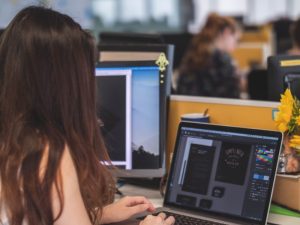 Weeding plotted design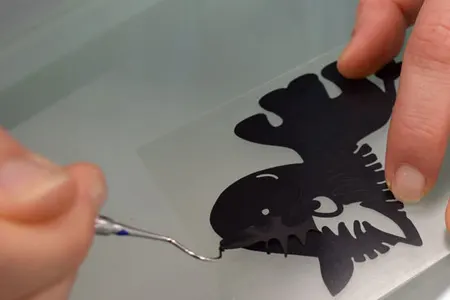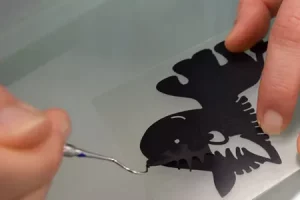 Weeding plotted font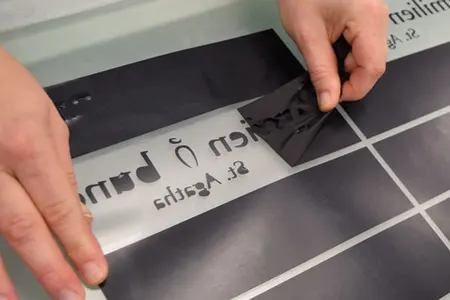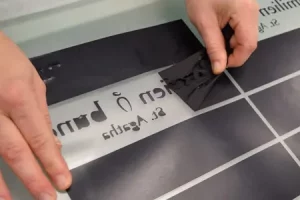 Measuring the printing position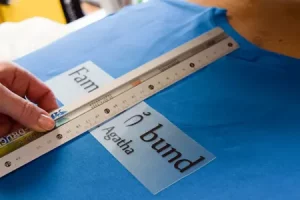 Positioning of the motif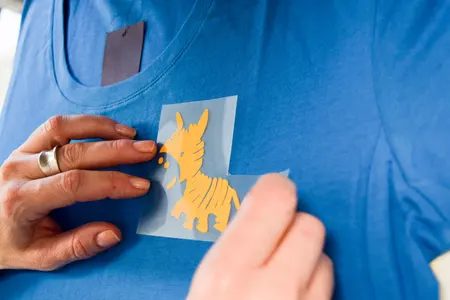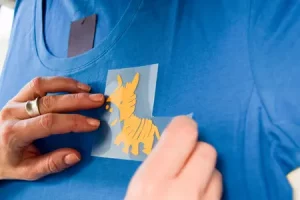 With heat & pressure the motif is pressed on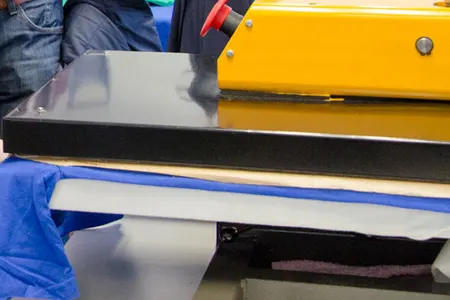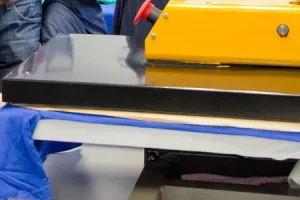 Positioning of the 2nd motif for 2-color prints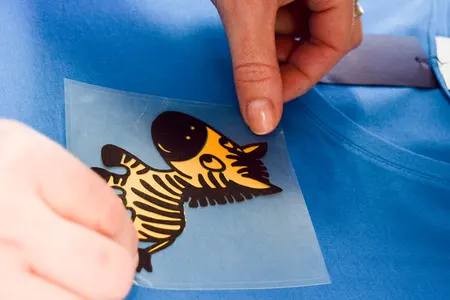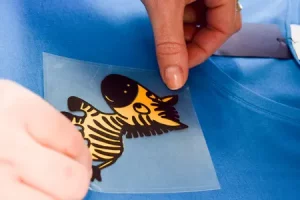 Peeling off the carrier foil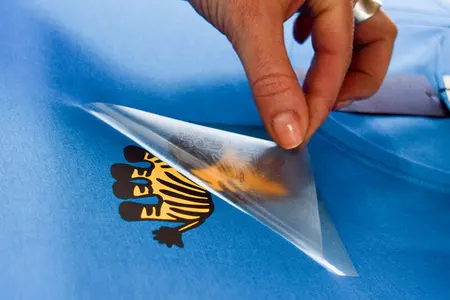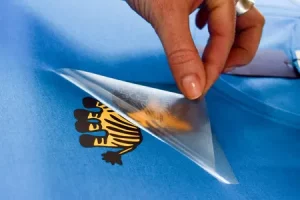 Ready printed 2 color motif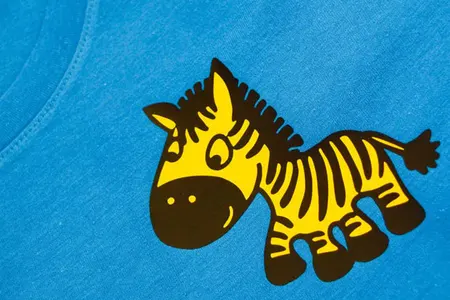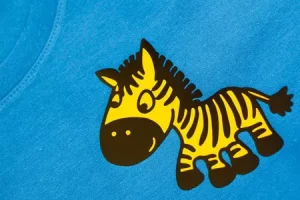 Ready printed 2 color inscription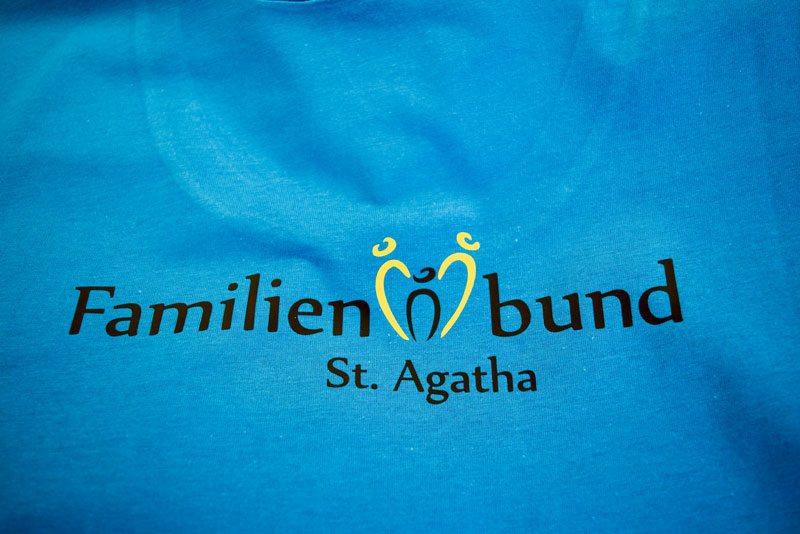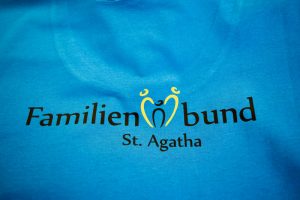 Find out about other textile finishes now
Your contact persons
Send your request directly to the respective contact person or via the contact form to the team.
Of course, we are also happy to receive your call.
We will be happy to advise you – honestly!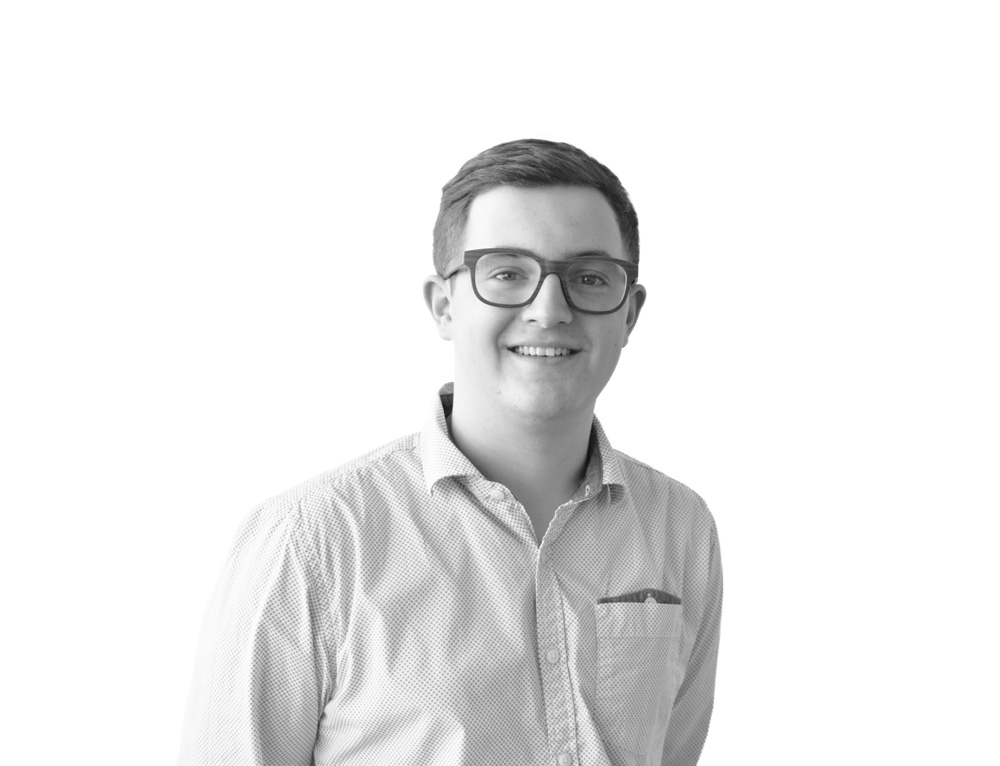 Florian Black
Customer service & work preparation