Christmas gift ideas
Gift ideas for the cold season.
Warming, practical or sweet - there is something for everyone.
Buy now
Glass engraving for particularly effective finishes
We at ebets give reality to your IDEAS – that's what our slogan says and we mean it literally. With 20 years of experience in promotional products production, we are absolute experts in laser marking, digital printing, embroidery and glass engraving. The latter is a particularly effective marketing measure that enjoys great popularity.
Engraving on glass - 3 advantages
Flexible
Glass engraving can also be realized on rounded glass surfaces. For glass products with stronger curves, we have a round engraving device that enables a uniform engraving pattern.
Individual
Even individual names on glass trophies or wine glasses are possible.
Combinable
Through the targeted use of laser engraving and UV printing, we create unique effects – especially for Glasawards.
Glass laser engraving for promotional products
Our customers who have glasses engraved attach importance to discreet, noble advertising. On drinking glasses and carafes, the engraving is particularly beautiful when filled with a colored liquid.
What glass products can be engraved?
Glass drinking glasses, wine glasses, beer mugs
Glass decanters & glass vases
Mirrors, glass jewelry and glass cover of wristwatches
The engraving suitability of different types of glass can vary greatly, and besides, no two pieces of glass are alike. Therefore, we recommend having a material test performed in our production in advance to achieve the best possible engraving result.
Glass engraving and 3D engraving for awards
On glass trophies, laser engraving has a noble look and, in combination with digital printing or 3D glass engraving, gives the award the finishing touch.
Particularly effective is the glass engraving in 3D optics. This internal engraving can be applied to glass as well as acrylic glass and is mainly used for trophies, dice or pen holders. We at ebets are also happy to take care of the pins inside this holder. So we are also in matters of pens – engraving your contact.
In laser – internal engraving, the laser beam is focused inside the glass to briefly heat the material to up to 20,000 °C. The laser beam is then used to engrave the glass. Due to the absorption of the laser beam, the glass is no longer transparent and an opaque or light-scattering area remains after cooling. This creates the three-dimensional effect, which is particularly beautiful in glass blocks and provides a noble design.
Glass engraving - details and tips
Marvel at this stylish form of advertising through thesubtle, milky white laser marking. Technically, glass engraving uses a laser beam, but it cannot engrave in the true sense of the word. Rather, it causes a mark on the surface of the glass. This happens as follows: When the laser beam hits the glass, the air and water molecules it contains are heated, which in turn causes them to expand. In the process, tiny particles of the surface splinter off, creating the familiar rough, white surface.
Possible engraving sizes:
For flat surfaces, we can produce glass engravings up to a size of approx. 40 cm x 60 cm.

To maintain legibility of lasered lettering on glass, the height of the letters should be at least 5 mm.
For rounded surfaces, the size of the possible glass engraving is based on the available curved surface. Our device for round engraving allows us to produce a uniform engraving image even on round glasses or carafes.
Laser engraving is also used on products made of
Your contact persons
Send your request directly to the respective contact person or via the contact form to the team.
Of course, we are also happy to receive your call.
We will be happy to advise you – honestly!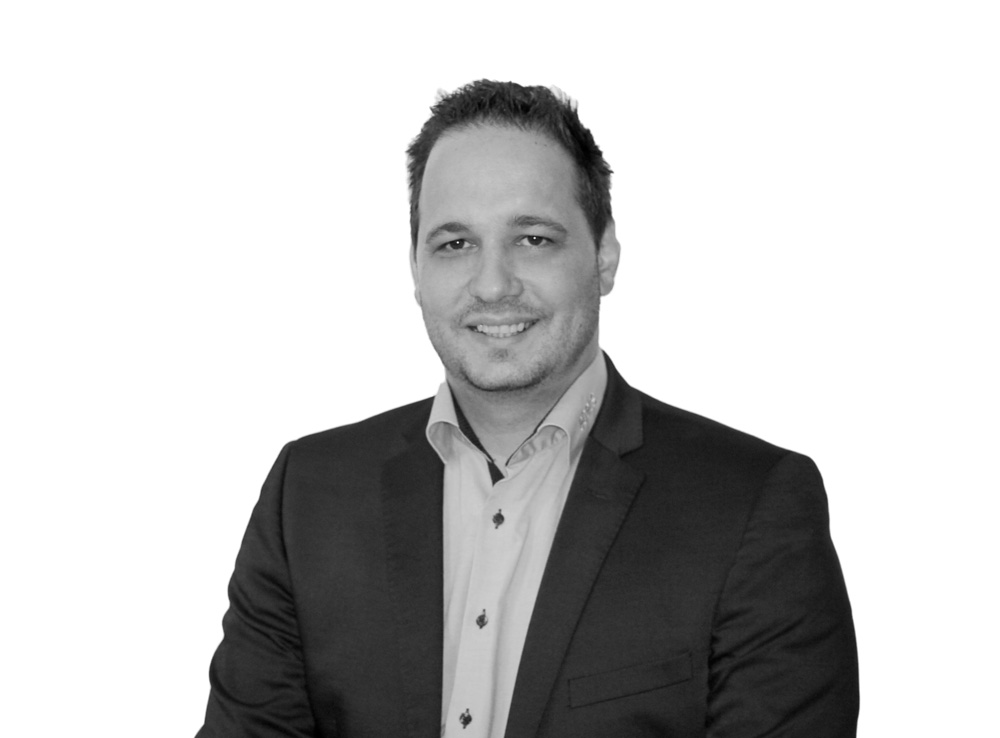 Stephan Paccagnel
Management techn. Sales & Quality Assurance