Corporate Identity
Motivate your employees to perform better with our help.
The term "corporate identity" = the totality of company characteristics, together with the sub-term"corporate fashion" = custom-made clothing for companies, means that the motivation of employees can be significantly influenced by uniform work clothing.
What manager or entrepreneur doesn't want more performance in their business? And all this with satisfied employees. This is because the uniform clothing, for example the uniformly printed high-quality T-shirt from us, gives the employee the opportunity to identify with the company. Textile printing with a company logo allows long-time employees to integrate into the team just as well as newcomers. A sense of belonging is conveyed as soon as the employee starts work, and he or she consciously enters his or her area of responsibility. It has been proven that the individual's sense of togetherness and thus also his sense of responsibility grows enormously. This visible affiliation automatically becomes the company's flagship and is transferred to the customer.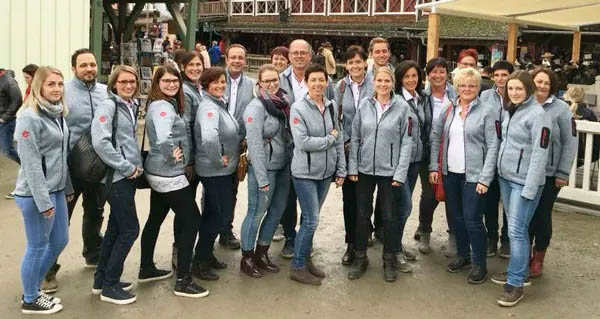 Let us be your competent partner when it comes to high-quality textile printing and regional finishing of your employee or club clothing. We will produce your company logo and club emblem as well as individual slogans on t-shirts, caps, jackets and much more to your complete satisfaction. Contact us today!
We see ourselves as a high quality embroidery and textile printing company and offer you a plus in selection, service and quality. Our experienced and long-term employees are specialized in high-quality regional finishing of textiles in the business sector, such as for associations, clubs and institutions. With us you can choose from hundreds of shades. We bring out the best in any embroidery on any fabric you want.
You too can benefit from our competent and individual advice. Let us also convince you of the high quality of the clothing when it comes to your employee or club clothing. Numerous studies have shown that workwear in particular can have a positive effect on an employee's self-esteem. Subjects who have participated speak of a new self-image. In this point, a great effect can be achieved in terms of work clothes. Because this is about the respective job profile of the company, whereby the image is optimally maintained. Work clothes usually have different faces. The focus is on the execution and the purpose that is to be fulfilled here. If we look at the psychological character, besides mandatory protective clothing in some industries, we see that employers deliberately choose uniform professional clothing for their employees.
If you as an entrepreneur are currently dealing with this question, whether a uniform professional or club clothing of your employees makes sense, you are exactly right with us!